QT426 - 16 Channel D1 Analog DVR
Overview
QT Series – QT426 DVR
D1 Resolution @ 7.5 FPS, CIF @ 30FPS, H.264, 16 Channel, Analog, Motion Detection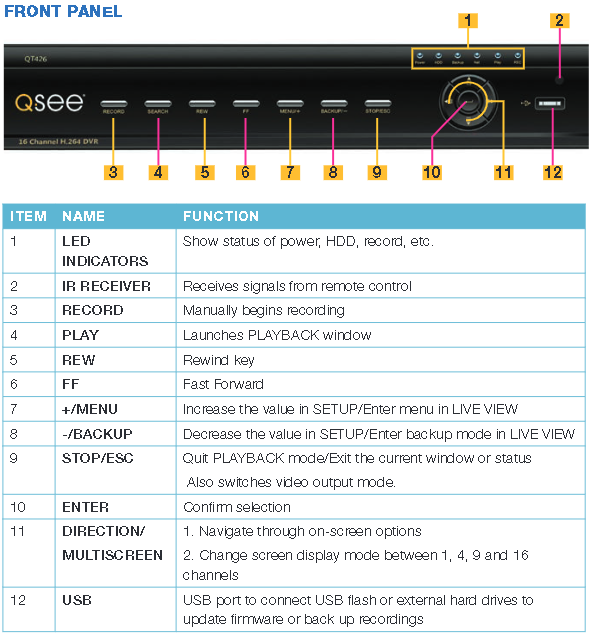 Specs
QT426 - 16 Channel DVR spec sheet
How to Setup
QT Series Analog DVR Quick Start Guide
FAQ Top Answers
How to Adjust Motion Sensitivity and Configure Detection Areas
Local Access Setup for Internet Explorer
Trouble Shooting
Password Configuration from the Wizard
How to Change Camera Viewing Modes
Email Notification, Motion Detection, and Snapshots Setup
Software
Firmware Updates
CAUTION: Updating the firmware incorrectly or using an update on the wrong DVR can permanently damage the chip-set on the DVR and make it unusable. Please verify that this update is written for your model.
Firmware updates are released to resolve performance issues and/or to add features. Any update could fail and cause problems if the steps are not followed correctly, or if the update is not required.
If you are not experiencing an issue that the firmware update was written to resolve, or you do not need the feature that is added by the update, please do not run the update.
If you have any questions about updating your firmware, please contact technical support.  Q-See is not liable for systems damaged while updating the firmware.  Q-See recommends contacting technical support, before updating, to avoid damage to your system.
Step 1

:  Download the firmware
Recovery Firmware (Only for NON Booting Systems)
Step 1

:  Download the firmware
Compatibility
The QT426 is compatible with ALL brands of Analog BNC cameras.  Resolutions supported are CIF (352x240) and  D1 (702x480).
Analog HD Resolutions are not supported, and Analog HD cameras cannot be downgraded to make them compatible.
---
---